Unforgettable Washington D.C Charter Bus Trips
---
Travel with convenience to Washington D.C with Comfort Express Inc bus rental company that offers top-notch transportation service to all sorts of occasions and destinations. We value each of our passenger's needs and put lots of effort to enhance the quality of our service. Also, we strive to make every trip of our clients full of positive emotions. Rent your perfect full-sized charter bus or motor coach and set off for a memorable journey to Washington D.C, a place that will impress you with its sophisticated beauty.
Our specialists are ready to provide you with essential details any time needed, so do not hesitate and book your bus charter from New York right now.
Enjoyable Trips with Our Bus Rental from New York
With an extended collection of superb bus shuttles available, you will get an exceptional option to travel, as our fleet is perfectly maintained and it is equipped with state of the art amenities such as DVD screens, mini restrooms, air conditioning, large panoramic windows, reclining seats, Wi-Fi and power outlets. You can have a pleasant conversation with your colleagues or friends, enjoy breathtaking scenery passing behind the window, watch a movie, or just relax while our driver takes care of your ride. There is no better way to savor every second of your trip, than travel by a charter bus.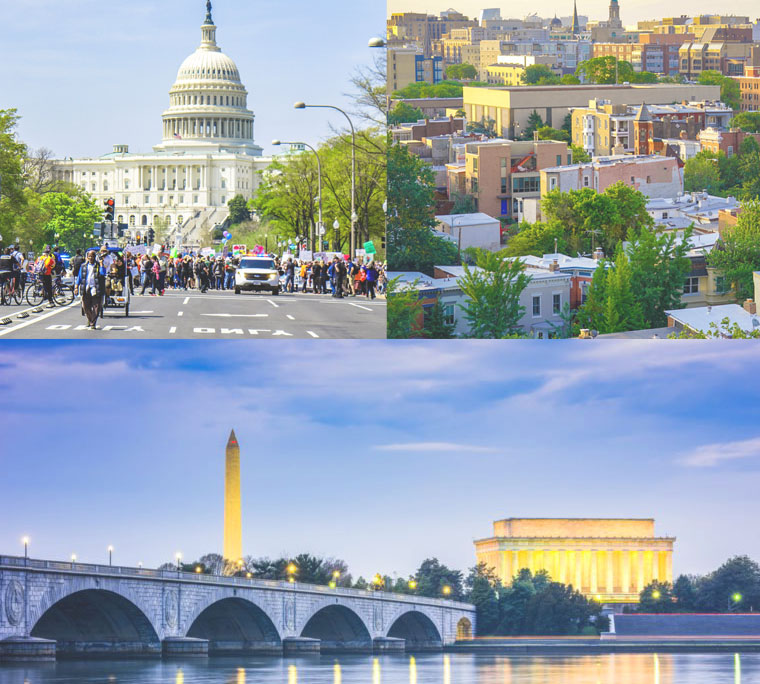 Get Rid of Unnecessary Worries
Planning a perfect trip for a large group of people is a challenging task as every slight detail should be considered in advance, especially when it comes to transportation, but if you have no desire to burden yourself with superfluous responsibilities, Comfort Express Inc is ready to take care of all travel arrangements.
Forget about tedious driving issues such as navigation through intricate city streets and traffic congestion: our professional bus drivers have considerable experience in commercial transportation and while you are enjoying your ride they will shuttle you safely to the designated location. Moreover, renting a bus charter for your trip to Washington D.C allows you to arrange your own itinerary and choose the most suitable route for yourself.
Wonderful Family Bus Charter Trips to Washington D.C
Full of versatile tourist attractions, Washington D.C is a must place to visit for the whole family. Whether you want to take your kids to the famous National Children's Museum, visit the International Spy Museum to have interactive family fun or enjoy the fascinating atmosphere of U.S Botanic Garden with its rich collection of exotic plants, our reliable bus rental company will provide you with a highly experienced driver and superb fleet featuring all the necessary amenities, so you will travel with pleasure and fun.
You can be sure that nothing will spoil your long-awaited vacation and each your family member will be safely driven to Washington with no delays.
Whether you are planning a trip for your colleagues, employees, or business partners, our courteous staff and highly experienced drivers will provide you with a smooth and stress-free ride full of comfort. There is no need to worry, that some members of your party will get lost on their way to Washington D.C or will fail to arrive on time to the needed place.
With our charter bus rental company, even the long-distance trip is a pleasant experience as we offer first-class ground transportation service, so you will not only get a chance to travel with convenience but also stay calm and relaxed during the whole ride to Washington D.C.
Comfortable Charter Buses reviews