Have a Trip to South Carolina with Comfort Express Inc
---
If you are searching for an opportunity to enrich your traveling experience with an unforgettable journey to South Carolina known for its versatile tourist attractions, our superior charter bus rental service is at your disposal.
We will provide you with exceptional ground transportation service from New York transferring your long-awaited trip into a pleasant occasion.
Regardless of event, purpose and number of people, we will match you with the most suitable bus charter to shuttle your group to the intended location. It is time to travel with ease and fun without additional worries.
Relax and Savor Every Moment of Your Ride
There is no need to worry that some passengers may get lost on their way to South Carolina due to intricate routes or traffic congestion. Charter bus group trip is the best way to get rid of burdening organizational issues and enjoy your trip. Relax while listening to music, have a pleasant conversation with your friends or colleges, and let our driver handle challenging driving problems. You will be amazed how comfortable is traveling by a charter bus, as each our vehicle is equipped with contemporary amenities such as Wi-Fi, air conditioning, panoramic windows, convenient cushioned seats as well as TV screens and restrooms.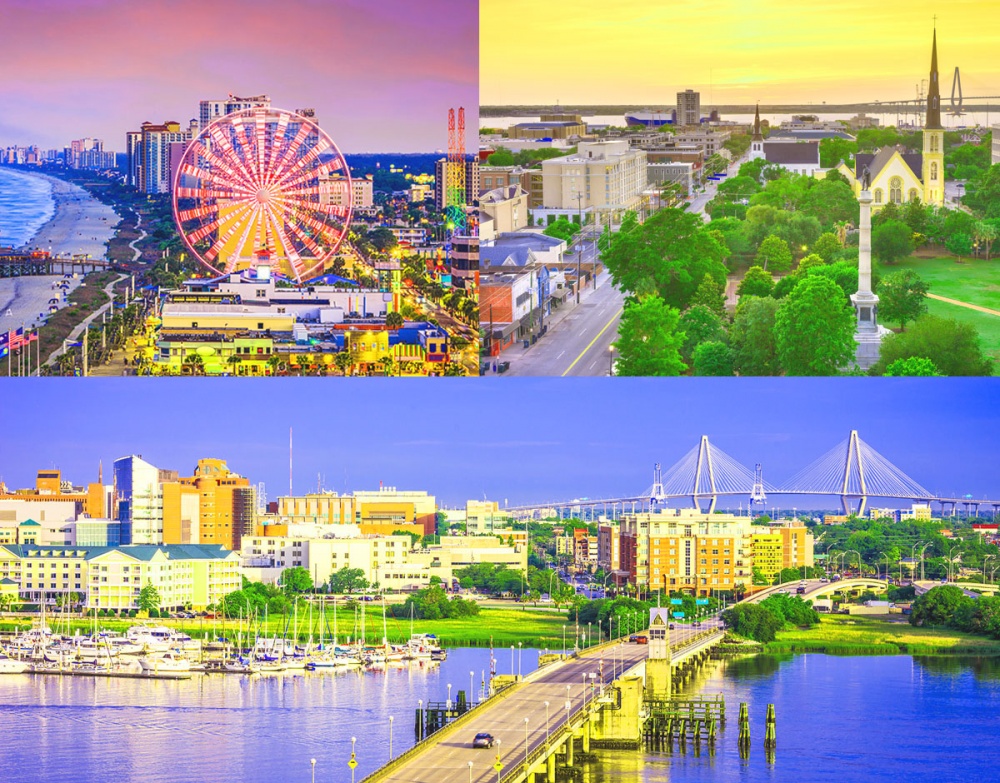 Quality Transportation to South Carolina
Comfort Express Inc ensures that you will get a perfectly maintained bus charter featuring everything you need for an ideal group trip. We have deluxe full-sized charter buses that can accommodate up to 50 people as well as convenient minibuses for smaller groups. If you have no desire to spend your weekend dealing with the city map and trying to figure out the right itinerary, then renting your own bus charter is something you need.
Our specialists will provide you with an opportunity to plan your perfect travel itinerary in compliance with your desires. Our bus rental company has considerable experience in organizing ideal trips to various occasions, so you do not have to worry that something may go wrong.
Exceptional Charter Bus Group Trips to South Carolina
Whether you want to spend some time with your family, celebrate your wedding, visit a game of your favorite team of transport your colleagues to the business seminar, our charter bus rental company will help you to make your upcoming outing to South Carolina as fascinating and easy as possible. With our highly experienced drivers, you will be safely delivered to the designated destination and will have a seamless ride.
Safety of our passengers is our main priority and we provide only quality bus shuttles that undergo regular inspections and meet all the necessary bus safety requirements. We cater to the needs of our clients and strive to make their trip full of comfort and joyful experience.
Why Visiting South Carolina?
South Carolina offers so many awe-inspiring tourist destinations and picturesque landscapes that it is definitely worth visiting at least once in your life. Although it is very popular due to the unspoiled beaches such as Myrtle Beach and Charleston, there are many other interesting places to see there.
If you want to enjoy marvelous natural scenery and have a long lazy walk, visit Caesars Head State Park. It is unspeakably wonderful place that allows you to explore the foothills of the Blue Ridge Mountains and take lots of beautiful photos.
Your trip to South Carolina will not be complete without going to the South Carolina barbecue trail. You will find here more than 200 barbecue restaurants ranging from smoky shacks to expensive white-tablecloth establishments serving different kinds of mouth-watering pork complemented with exceptional sauces.
Another great place to visit is the McLeod Plantation Historic Site with its sad and rich history and the Pearl Fryar Topiary Garden featuring unparalleled collection of plants trimmed into whimsical shapes.
Comfortable Charter Buses reviews