Group Trips
If you want to feel the thrill of a real adventure, charter bus group trip is something you need. Forget about stressful and tedious preparations with our supreme bus rental service in New York. Our professional team will indulge you with quality transportation making your journey as comfortable as possible. Charter bus is the most efficient and pocket-friendly way to travel with a large group of people throughout the country. Family tour, corporate trips, ordinary team excursions or multi-day events - whatever you choose, our Comfort Express Inc company will put lots of effort to provide you with deluxe and reliable transportation.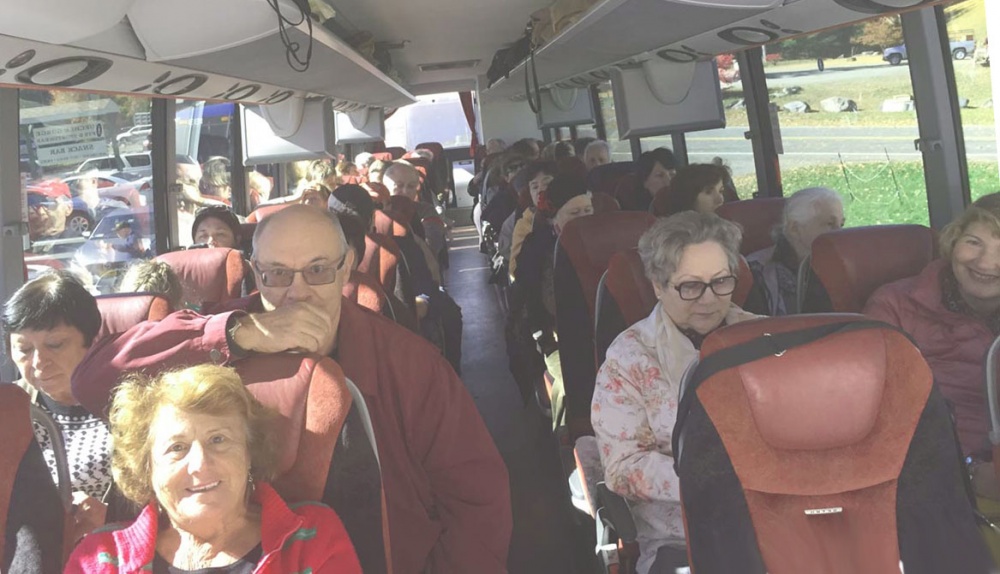 Stress-free adventure
There is nothing more pleasant than traveling, but with a large number of tourists involved it might be quite complicated to organize everything on a high level. However, a charter bus group trip allows to get rid of additional worries and simply concentrate on your highly anticipated journey. There is no need to think about tricky highways or stick your nose into the map trying to figure out the right way to your destination as our professional drivers know how to handle various driving issues. If you are looking for a stress-free tour, a charter bus race is a marvelous option to have a holiday of your dream.
Developing a team spirit
Bus travel serves as a perfect tool to expand your circle of friends and meet lots of new people. In daily life, you might refrain from a light conversation with a stranger, but charter bus environment allows you to get acquainted with various interesting individuals as well as to improve your relationships with your colleges, friends or family members. A group trip is an ideal way to develop your team spirit and feel the atmosphere of a real journey. Moreover, having someone to share your emotions while traveling is a great pleasure.
Travel with absolute safety
When you set off for a stunning road trip, you want to be sure that your group will get to the necessary destination safely. Our rental bus company in New York City aims at providing passengers with a comfortable and quality vehicle that will deliver them carefully in no time. We hire only skilled drivers with an ideal driving record who undergo training that provides them with specialized knowledge. Courteous and friendly they will get the whole group to the needed place without any delays.
Why Choose Charters Bus from Comfort Express Charters Inc
---
Best Service in New York City
We offer top-notch transportation option for every trip, regardless of time, distance, and size of your group. Our mission is to attract and satisfy customers by providing them with safe and reliable ground transportation while their trips.
Reputation
Comfort Express has provided a wide range of groups with quality transportation logistics throughout NYC that has helped us to earn a good reputation for incomparable quality and excellence.
Safety & Security
The key priority of our company is safety of our customers, so our bus shuttles undergo regular check-ups and meet safety requirements that eliminate any chance of crashes and breakdowns.
COMFORT IS EVERYTHING
There is no more comfortable traveling solution than a fully-equipped charter bus. Whether you are having a short or long-distance trip, be sure you will get a few hours of total relaxation. Modern charter buses are outfitted with a vast range of amenities allowing you to experience the utter level of convenience which includes cushioned seats, air conditioning, TV monitors, wireless connection, power chargers, small restrooms and storage space for your luggage. Enjoy the appealing beauty of surrounding while looking through the panoramic windows, have a nap or finish watching your favorite series. The time will pass rapidly, so you will fail to notice how quickly you reached the destination.
AFFORDABILITY
Charter bus group trip is a budget-friendly option to escape from your city and broaden your traveling experience. While buying airline tickets even for a small group requires considerable costs, road trips have no limits and are much more efficient. A personal charter bus allows you to get a striking adventure for a reasonable price. Saved money you can waste on pretty souvenirs for your friends or taste some extraordinary dishes at the local restaurants.
If you finally decided to have a rest and enrich your life with bright memories a charter bus group trip is something you should try at least once in your life. Travel to various tourist destinations with utter convenience without any worries.
Latest News About Charter Buses
---