Group guide to visit Central Park
---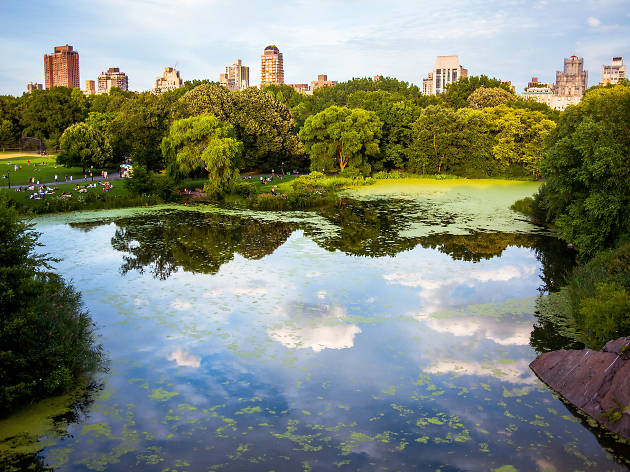 If you are planning a fascinating trip to New York City, you can not miss your chance to spend at least a few hours at one of the most spectacular destinations - Central Park. It is a beautiful spot to escape from hustle and bustle of your busy routine and renew the energy balance. With scenic views, a great collection of historic landmarks, and peaceful atmosphere, Central Park is just the right place to go.
But before you make up your mind to visit it, here are a few essential things to consider about the park:
Central Park is enormous, so it is impossible to walk through it within a single day unless your group is in excellent shape.
Since the park occupies a large territory, the drop-off location is really important.
Before setting off for a trip to Central Park, think about spots you want to visit as it will define the most suitable drop-off location for your group.
There is no option to drive your car through the park, as it was created for walking, biking, running, and wheeling, so if you are traveling with a lot of people, a bus charter from Comfort Express is ready to satisfy your needs.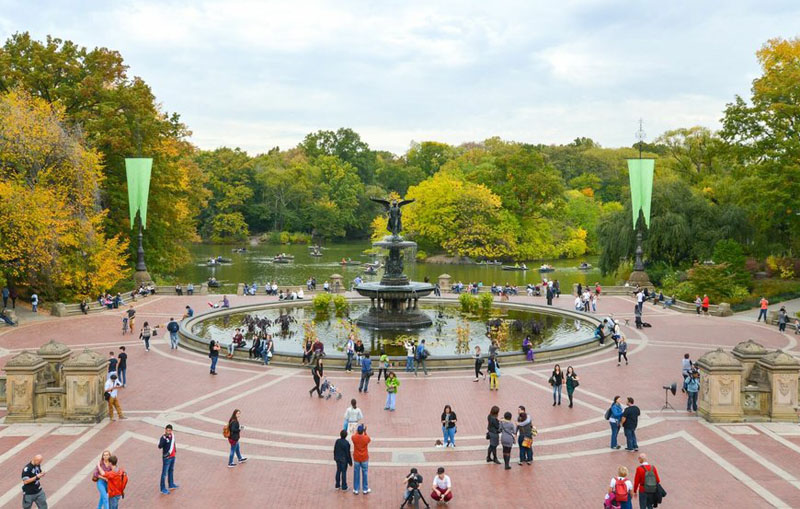 You will be dropped off near Central Park and while our driver will deal with parking issues, you will get a chance to start your journey without worries.
Parking and Driving Through Central Park
When it comes to traveling in NYC, you might find it problematic to find the right place to park your car, as in general, NYC has not so many parking spaces to satisfy needs of tourists. So instead of savoring positive emotions and relaxing, you will slowly become irritated and that will spoil your mood for the entire trip. One of the best options to arrange a group trip of your dreams is renting a superb bus charter from bus rent company. That will save your time and limit horrible travel-associated stress. Lots of streets outside of Central Park's main entrance features special loading and unloading spots for charter buses making it easier for you to get to the park.
Most of them stretch along Central Park South, the southern border of the park on 59th St. So, if you have no desire to waste your time, bus rent is your chance to travel with ultimate comfort and lots of fun.
Things to Do in Central Park
Central Park is not only a combination of green grass and spellbinding scenery, but it also features a wide range of captivating attractions. Whether you want to have a relaxing stroll or take pictures of iconic memorials and statues - Central Park has everything to satisfy even the most discerning tourists. Here are some of the most stunning destinations you should put on your travel list.
Those who are in love with music of Beatles should point themselves towards the legendary John Lennon memorial to honor that extraordinary musician. You will find it on the west side of Central Park, right next to the apartment where John Lennon once lived. You can get some flowers and put them on the beautiful mosaic with the word «Imagine» written on it, or just take a few pretty photos to share with your friends.
Best Drop-off Location: if you want to visit that memorial, the west side of Central Park South will be an ideal solution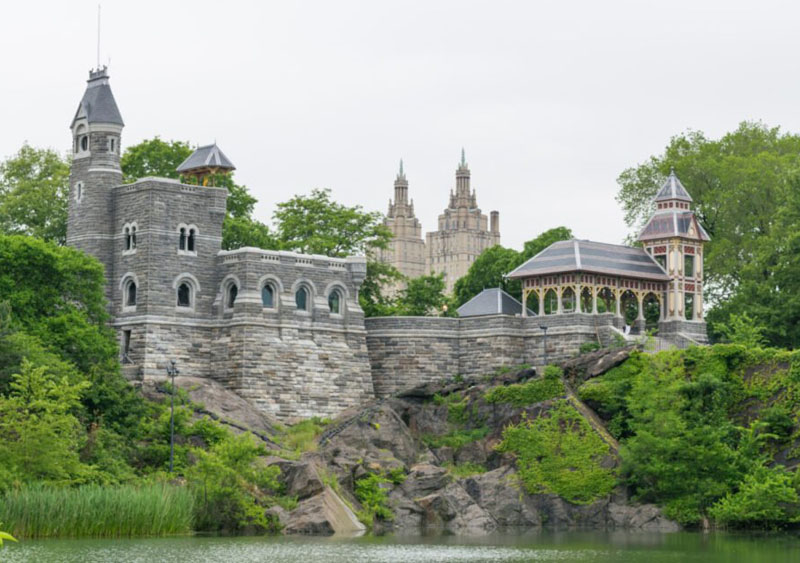 One of the most astonishing features in Central Park, Belvedere Castle is settled atop the large rock outcrop also known as Vista Rock, the second-highest natural point in Central Park. Created by Frederick Law Olmsted, this magnificent gothic-style castle is a must-visit attraction in Central Park. Belvedere Castle was specially designed to provide visitors with an impressive view over mesmerizing surrounding landscapes and originally it had no doors and windows as it was intended as a lookout tower. Over time Belvedere Castle has undergone some slight changes, and now it is home to Park's visitor centers and a gift shop where you can get pleasant souvenirs for yourself.
Best Drop-Off Location: Your bus shuttle should drop you off near the Museum of Natural History
Your trip to Central Park will not be fully complete without visiting the Bethesda Fountain, the awe-inspiring focal point of this area, which is one of the hugest fountains in NYC and the most famous tourist destinations. The Bethesda Fountain represents a striking neoclassical sculpture well-known as Angel of the Waters that features a large bronze angel standing above four smaller angels symbolizing peace, purity, health, and temperance. While taking some pictures near the Bethesda Fountain, you can also enjoy a view of a legendary Bow Bridge.
Best Drop-off Location: If you want to get to Angel of the Water as fast as possible, ask your driver to stop in the middle of Central Park South
There is no better place to renew inner balance and enjoy the peaceful atmosphere than The Mall. This breathtaking walking path surrounded by elm trees ends at Bethesda Terrace and the Bethesda Fountain and offers a unique experience of strolling, contemplating monuments, people-watching, and admiring trees. The southern part of The Mall also referred to as Literary Walk, as it is home to an explicit collection of stunning statues honoring world-famous poets such as William Shakespeare, Robert Burns, and Sir Walter Scott. The Mall & Literary Walk would be an ideal getaway destination for outdoor enthusiasts.
Best Drop-Off Location: Your bus charter showed drop you off in the middle of Central Park South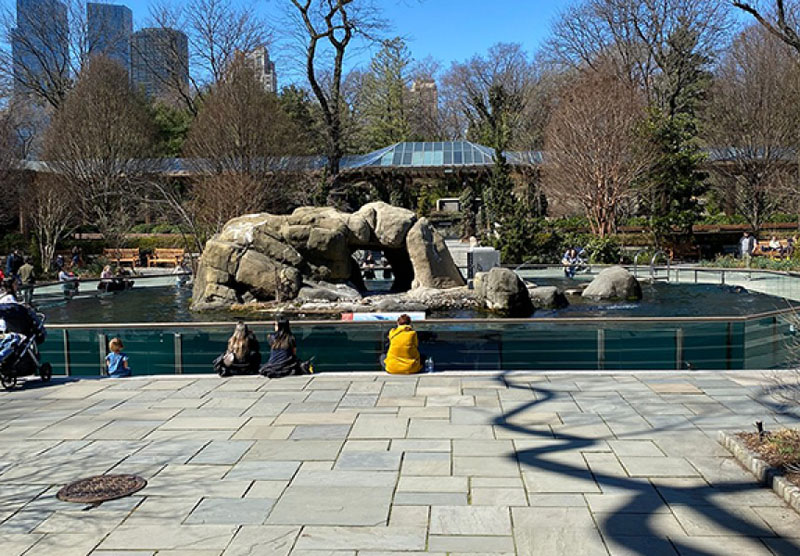 If marveling around Central Park has no particular interest for you, take your children and point yourself toward Central Park Zoo. Experience wildlife in the heart of Manhattan and get a touch of the city's most unique views. You can enjoy here plenty of cute animals such as bears, penguins, red pandas, and puffins that will definitely make your kid happy while providing you with lots of positive emotions.
Best Drop-Off Location: The east side of Central Park South would be the best option for you
Picnics on the Great Lawn
When the weather is marvelous and you are surrounded by close friends, one of the greatest ways to spend your weekend and blend with nature is having a picnic. Before setting off for a group trip to Central Park, think about grabbing a cooler with delicious sandwiches and some drinks that will allow you to arrange a picnic in the Great Lawn. Located in the middle of the park, the Great Lawn will provide you with a huge amount of soft grass for spreading out and relaxation. It is also a wonderful spot to enjoy seasonal free performances that regularly take place here.
Best Drop-Off Location: The shortest way to reach the Great Lawn is to leave your bus near the Museum of National History.
Organize a Fascinating Group Trip to Central Park
Whether you are eager to arrange a family trip, team building event, or wedding celebration, your group trip to Central Park will be more comfortable if you rent a spacious bus charter. Featuring all the modern amenities, they will provide you with air-conditioned ride no matter wherever you go.
Our bus company offers premiere ground transportation service full of ultimate comfort and fun.
You can be sure that your upcoming journey will be transferred into a unique experience accompanied by bright emotions.