Six Flags Great Adventure Theme Park
---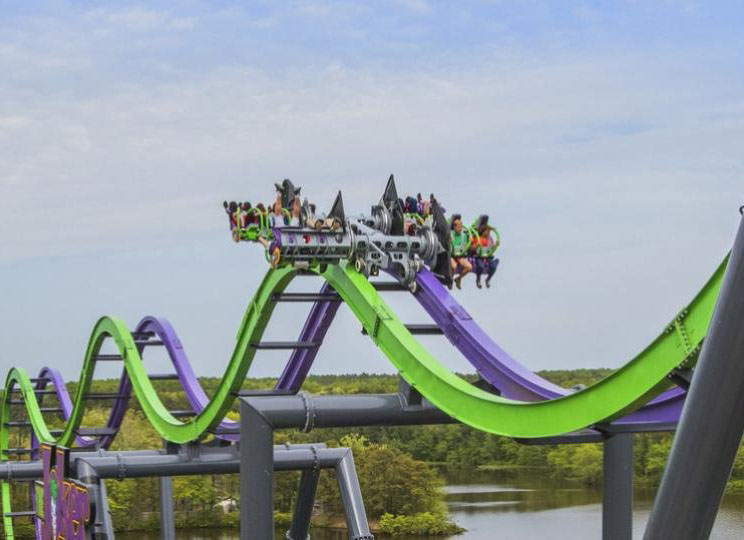 For a truly unique experience and colorful emotions you should head to fascinating Six Flags Great Adventure amusement park. With a wide range of attractions suitable for every age, mind-blowing rides, exciting live entertainment, and multiple dining options, it is one of the largest theme parks located in New Jersey.
If you want to spend a weekend full of real fun, grab your family and set off for an unforgettable journey to Six Flags Great Adventure Park. Rest assured that you will never regret your decision as that amusement park has lots to offer. From special events like Fright Fest and Holiday in the Park to soaring rollercoasters and versatile children's rides, you will get a chance to immerse yourself in the world of childhood and create bright memories together with your family.
When you are planning a trip to Six Flags Great Adventure Park, it is important to consider every detail to make it as smooth as possible and one of the greatest ways to travel is renting a sleek charter bus.
Comfort Express ground transportation service offers unparalleled access to perfectly maintained bus shuttles featuring all the latest modern amenities. Enjoy all the possible attractions and create bright memories instead of spending hours trying to find the right place to park your car.
Six Flags Great Adventure Park is a marvelous tourist destination that has lots to offer.
Things to Do
With an explicit collection of state-of-the-art rides and attraction, Six Flags Adventure Park promises the perfect vacation getaway for the whole family. Enjoy dozens of entertaining options and transfer your weekend into an unforgettable event. Six Flags Adventure Park is so fascinating, that it will be difficult for you to get back home and leave that place.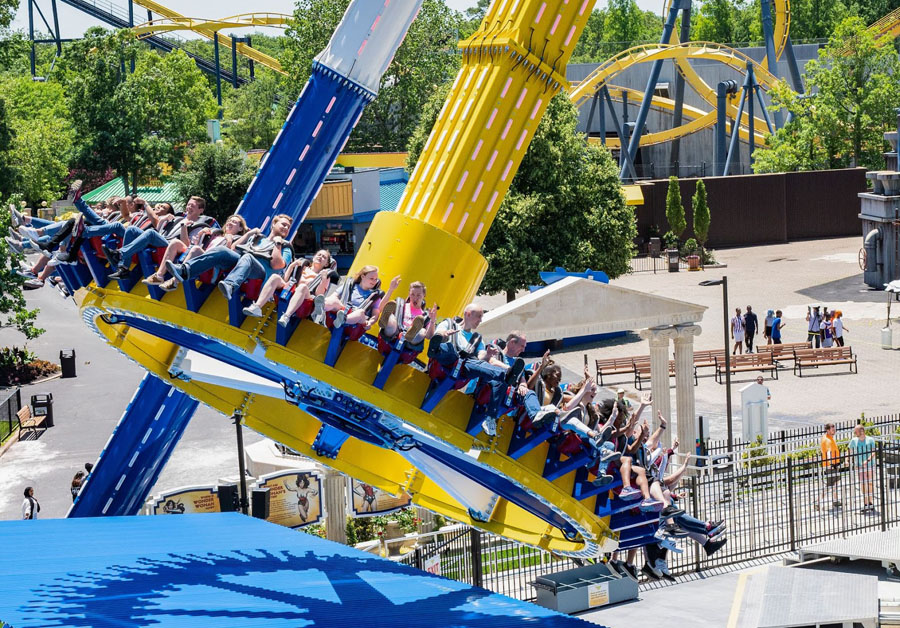 Family Rides
If you are traveling with your family, Six Flags amusement park features plenty of family rides specially designed to bring some excitement into your life.
Get ready to let loose and enjoy the moment of genuine happiness while you are flying through the sky on Air Jumbo. You can control how high or low you fly by regulating a ride with a help of a control level and even raise your trunk high up to the sky.
If you want to know how it is like to be Batman, head to Batman the Ride to get a taste of incomparable excitement but keep in mind that you have to be brave enough to climb into the ride. You will experience a 10-story lift to the top and full 360-degree loop right off the bat.
Another wonderful option for those in search of bright emotions is traditional Big Wheel. You will get a chance to enjoy a spectacular view from the mesmerizing 150-foot-tall Ferris wheel. Get into a softly rocking covered chair and experience genuine fascination when the wheel begins its way to the top.
Do not forget to pamper your child with an exceptional Air Safari ride. It is a state-of-the-art junior-style plane outfitted with colorful propeller spins that will take your kid to the sky. Air Safari also has a special level allowing your child to control the height of the flight. Rest assured that your little ones will be all smiles at the end.
Kids Rides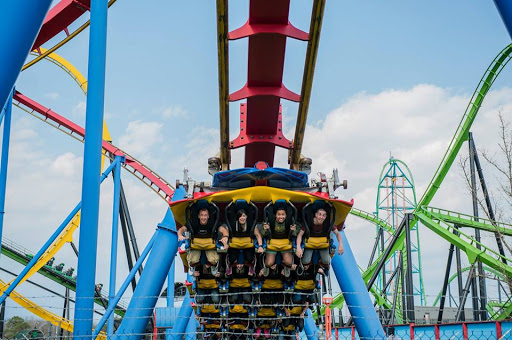 Six Flags Adventure Park is a perfect entertainment destination to make your kids pleased. With unparalleled access to superb rides and spellbinding attractions, your child will remember the weekend spent at the amusement park for the rest of his life. You will find plenty of colorful Kids Rides suitable even for the most capricious children.
For starters, go to the Bugs Bunny Camp Carousel and saddle up on one of the 20 lovely horses while checking out various images of world-famous Looney Tunes characters. This peaceful ride is specifically adjusted for little hands and feet making it as comfortable as possible for your little ones.
After that, point yourself toward Daffy's Hot Air Balloon and have an astonishing hot air balloon excursion. Get into bright balloon basket and prepare yourself for a marvelous trip into the sky. You can take lots of beautiful pictures while savoring amazing natural view that stretches beneath your basket.
Take your kid to a kid-favorite astonishing spinning bug ride. You children will get an opportunity to become a real driver as they will be provided with colorful bug mobiles. Those tiny cars look like lovely bright beetles featuring funny faces and move around an enormous pink flower in the circle.
You will have more than a few other rides to choose from including Jumpin' Joey, Foghorn Leghorn's Stagecoach Express as well as Bugs Bunny National Park Water Tower.
Thrill Rides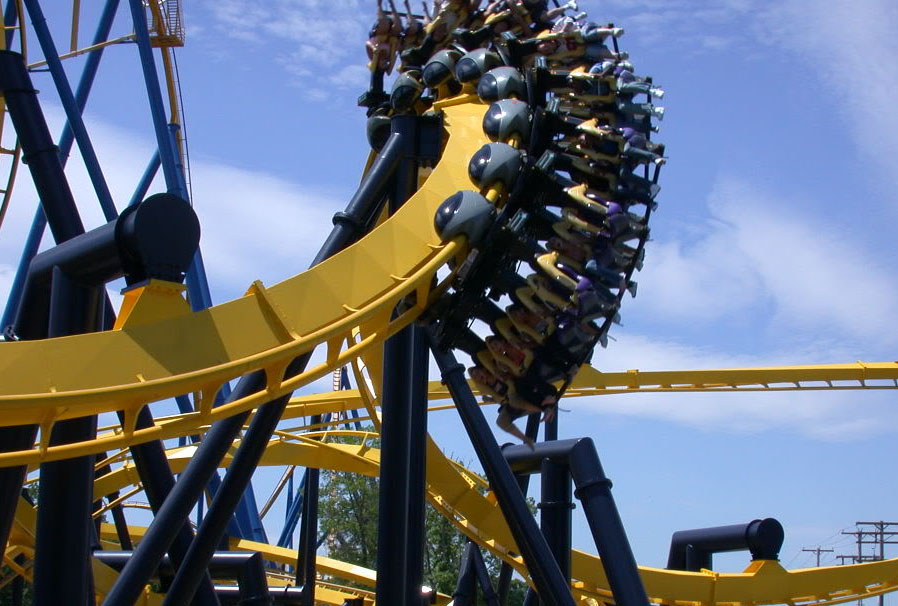 For an adventurous journey into the universe of world-class attractions, choose among the tallest, wildest, and most gut-wrenching rides. If you think that Six Flags Great Adventure Park incorporates only entertainment for kids, you will be surprised to discover an unmatched list of Thrill Rides created to blow your mind. There are even some record-breakers worth visiting in case you are brave enough to try them.
To get a taste of unspeakable thrill, head to Dare Devil Dive, one of the most astonishing rides you could ever think about. Incorporating excitement of bungee jumping, hang-gliding along with skydiving, Dare Devil Dive has everything to pamper your senses beyond compare.
Imagine that you are a real superhero when you are riding a stand-up Green Lantern coaster. That ride is absolutely insane, so get ready to immerse yourself in the world of exhilarated excitement. Green Lantern begins with a 155-foot hill followed by wild 144-foot drop and accompanied by a 121-foot loop.
Also, Six Flags Great Adventure Park features out-of-the-ordinary Justice League: Battle for Metropolis that is an awesome interactive thrill ride including all the latest modern technology, and perfectly looking video graphics. You will get a fascinating gaming experience full of unbelievable emotions.
Animal Attractions
Your trip to Six Flags Great Amusement Park will not be complete without a visit to an astounding Wild Safari Drive-Thru Adventure. It is an impeccable tourist destination for the whole family to enjoy. With more than 1,200 species of animals from the whole world, you will be able to discover peculiarities of the wildlife in its real natural habitat and have an adventurous trip of your lifetime. The range of animals includes giraffes, elephants, rhinos, tigers, and plenty of other species. Moreover, you will need only $19,99 to get access to the unmatched collection of wild animals.
Safari Off Road Adventure is your ideal chance to enjoy fascinating world of wildlife while exploring versatile exotic animals gathered at 350-acre territory. When you are ready to go to Six Flags Theme Park, put into your must-do list Safari Off Road Adventure and begin your day from fascinating outing. The trip lasts around 45 minutes, plus you would like to have some time to spend at Camp Aventura where you can feed some animals and even take a zipline along safari.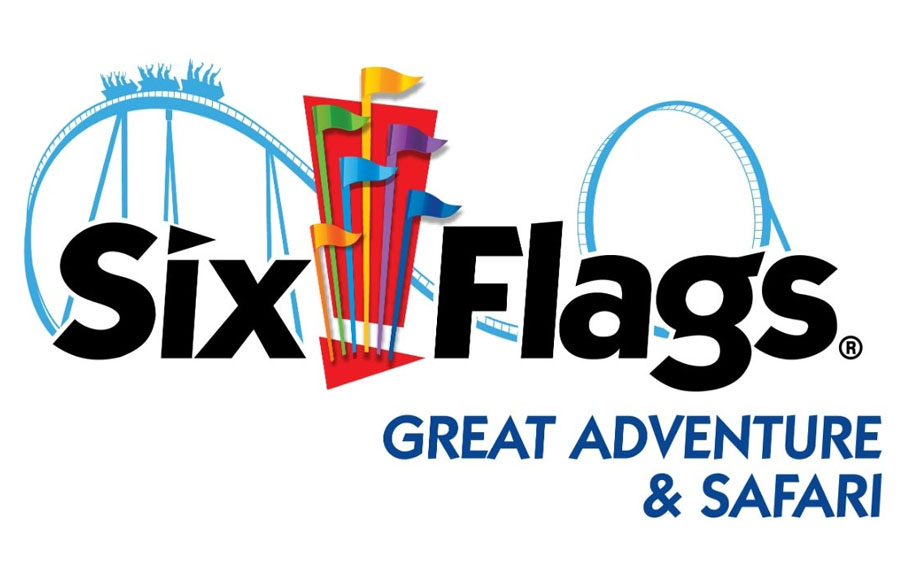 Restaurant & Dining
After a day full of colorful emotions, you will definitely want to get a delicious meal. Six Flags Great Adventure Theme Park offers not only an explicit list of upscale attractions and entertainment, but also a variety of superb dining options. Whether you are looking for a light snack or mouthwatering meal, there are numerous places to keep every craving covered. You can choose one of the following cafes and restaurants:
Ale House
Best of the West
Boardwalk Po Boys
Boardwalk Steak & Fries
Casa de Quesadilla
Central Brew Haus
Chickies
Chop Six
Chop Six Express
Dippin Dots Boardwalk
Charter Bus Trip to Amusement Park
If you are looking for the most comfortable way to travel to New Jersey, charter bus group trip is the best solution.
Whether you are planning to have a single-day excursion to the amusement park, or spend the whole weekend enjoying various rides with your family, Comfort Express bus rental company is ready to provide you with an incomparable travel experience.
You will be matched with a top-quality bus shuttle complemented with a wide range of contemporary amenities such as free Wi-Fi, comfortable reclining seats, air conditioning, lots of storage space as well as mini-restrooms. Forget about driving issues and be ready to enjoy every moment of your vacation. Charter bus group trip is your perfect way to get to Six Flags Great Adventure Theme Park in utter comfort and become a child at least for one day again. Grab your family or friends and create pleasant memories together.
Latest News About Charter Buses
---