Resorts World Catskills Casino
---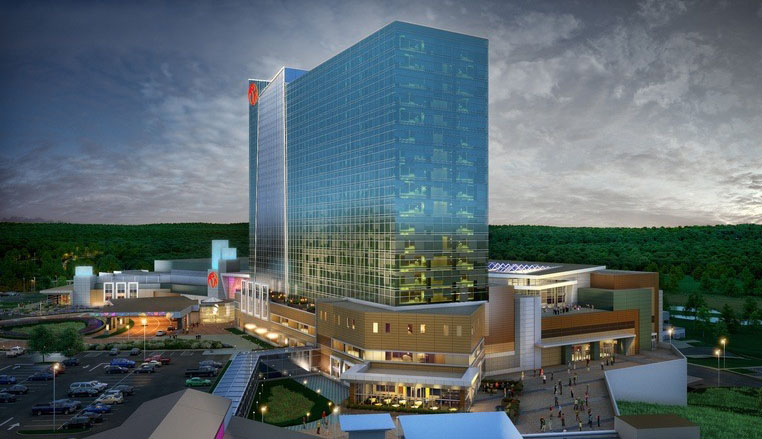 With unparalleled access to the rich collection of popular gaming options, restaurants that will blow your mind, and over-the-top accommodation, Resorts World Catskills Casino is one of the greatest getaway destinations to spend unforgettable time.
It is located not far from Manhattan and being nestled among the fascinating scenery of the spellbinding Catskills Mountains, Resorts World Catskills Casino provides tourists with exceptional entertainments and recreational facilities. This casino is so great, that you will find it difficult to leave it and get back to your ordinary life.
Resorts World Catskills Casino offers unbelievable experience in entertainment, and if you want to make your casino trip even more exciting, rent Comfort Express perfectly-maintained charter bus to travel with ease and fun.
There is no need to destroy your positive holiday mood while dealing with confusing travel arrangements. Get to the designated location with a reliable bus driver and plan the best possible itinerary to enjoy every single moment of your charter bus casino trip from New York.
Gaming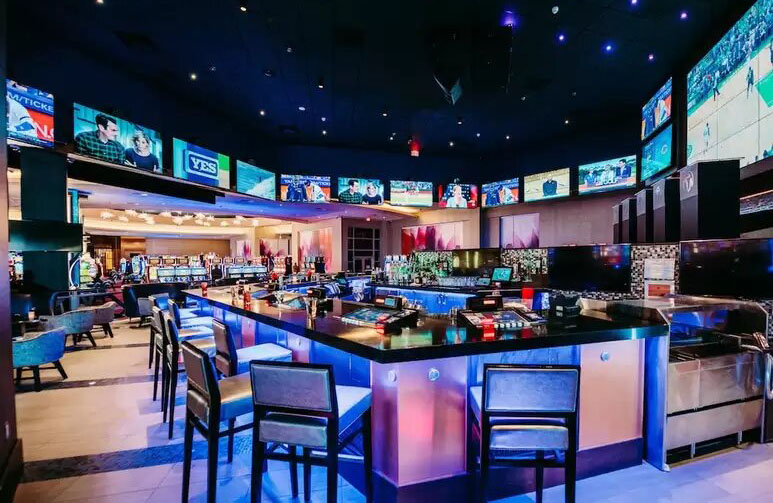 Looking for unmatched gaming experience? Then Resorts World Catskills is a must place for you. Stumble into the world of gambling and feel the excitement of a risky game. Resorts World Catskills offers a wide range of games to play like no other in the region. It encompasses over 100,000 square feet of gambling options featuring 1,600 contemporary slot machines, 150 traditional table games, exceptional poker room as well as private gaming salons and sports book.
Resorts World Catskills is home to a large selection of over 1,600 state-of-the-art slot machines that are designed to provide you with fresh and exciting gaming experience. You will definitely find something suitable for your tastes. Moreover, in the breaks between games, you can enjoy the enchanting mountain landscape that will leave you breathless. Enter the room and test your luck with cutting-edge Coin Combo Games. After that continue your gaming journey while testing Aristocrat Lightning Link and Dragon Link or go to High-Limit Area for greater emotions.
If you prefer more traditional gambling style, do not miss your chance to explore a huge collection of table games presented at Resorts World Catskills. It includes more than 150 live table games, so you can be sure to find the best solution to satisfy your soul. From Baccarat and Mini-Baccarat, Blackjack, Craps and Big Six to Crazy 4 Poker, Mississippi Stud, and Three Card Poker - whatever game you choose will bring you only positive emotions!
One of the best ways to get superb gambling experience and enjoy the fast-paced game is to spend your time at Resorts World Catskills Casino's luxurious Poker Room. It is located on the main casino floor and features large outdoor smoking deck as well as twenty-seven gigantic flat-screen HD TVs that will provide you with a chance to savor every moment of your beloved games without leaving your comfortable seat. You will find around 20 tables of Texas Hold'em, Seven Card Stud, and Omaha, outfitted with convenient seating with USB ports. Keep in mind that limit poker betting starts at $3-$6 while for no limit poker it is only $1-$2.
Useful tip: Resorts World Catskills Casino offers fascinating rewards for eager casino players allowing them to become a part of Players Club and get access to fascinating dining experiences, luxurious accommodation, spa options, and versatile special offers that will make your vacation even more delightful. You can join the Players Club any time you want and all you need to do to earn points is to use your card whenever you play a game. The more you gamble, the more points you get to unlock lots of fascinating options.
Accommodation at Resorts World Catskills Casino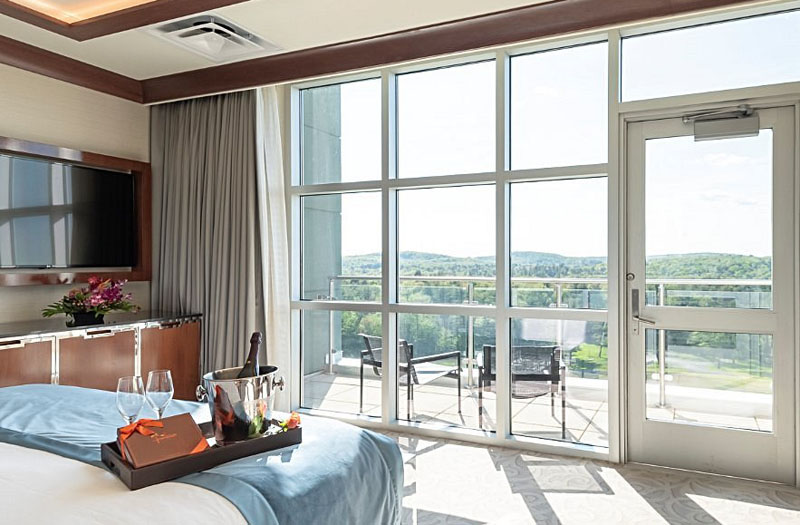 Every guestroom at Resorts World Catskills Casino provides exceptional opportunity to relax in utter comfort complemented with marvelous atmosphere of perfectly designed accommodation. You will get a chance to book hotel rooms that range from 600 square feet to mind-blowing penthouses reaching around 2,000 square feet. Whatever option you choose for your holidays is sure to be absolutely special and with its own unique atmosphere.
Every guestroom features spacious bathroom with a comfortable sit-down vanity, a wide range of toiletries, double sinks as well a dressing area with additional closet. Moreover, hotel rooms include versatile useful amenities such as flat-screen TVs, wireless internet connection, coffee makers, minibars, and even iHome clock with wireless charging station. One of the greatest advantages of Resorts World Catskills Casino is its impeccable location allowing you to enjoy spectacular view of the mesmerizing Catskills Mountains.
Tourist Facilities
Resorts World Catskills Casino offers not only stylish accommodation with up-to-date design, but also it features versatile recreational facilities, so you can make your vacation even brighter. Spend your time swimming in luxurious indoor pool; go to the Life Fitness Center to keep yourself in a good shape and enjoy a wide range of equipment presented there; savor pleasant massages, body treatments, and facials that will make you feel younger and more agile at Crystal Life Spa; or feel the excitement while playing golf with your friends in out-of-the-ordinary Topgolf Suite!
Useful tip: if you have difficulties in planning your trip to Resorts World Catskills Casino or you are eager to set off for your casino journey immediately, get one of the hotel unique packages that include March Mayhem Package, Final Four Package, and alluring Shopping Package and get access to unmatched luxury, gaming and entertainment options.
Dining & Restaurant
Resorts World Catskills Casino features a vast array of state-of-the-art restaurants and bars aimed to satisfy even the most insatiable tastes. Whether you would like to spend your evening while savoring the best examples of Asian exquisite dining or enjoy the relaxing atmosphere of casual bar and grill, there are multiple options to choose from.
For flavorsome breakfast favorites featuring amazing buttermilk pancakes and brioche French toasts as well as specialties such as flame-grilled ribeyes, visit 24/7 Bistro. With its peaceful atmosphere, quality food, and mind-blowing cocktails, it is a superb American restaurant to dine in. If you would like to indulge yourself with succulent steak made of the Black Angus beef, head to Italian-inspired Cellaio steakhouse and get unparalleled dining experience while enjoying your time in a warm and friendly atmosphere.
Another wonderful place to visit is Doubletop Bar & Grill as it offers not only rich menu with delicious gastrobar dishes and fascinating collection of spirits, but also a lot of additional entertainments such as excellent live music and big-screen TVs. Those who prefer sophisticated Asian flairs should definitely come to Good Friends to enjoy dishes inspired by Vietnam, Hong Kong, Malaysia, and China. You can even watch the chefs preparing your favorite dishes as the kitchen here is open.
At RW Food Hall you will get a chance to satisfy your tastes with utterly delicious and hot dishes for a friendly price. You can order from one of the self-serve kiosks choosing from explicit Mexican, Pizza, or Salad Station menus.
Get to Resorts World Catskills Casino with Ease and Fun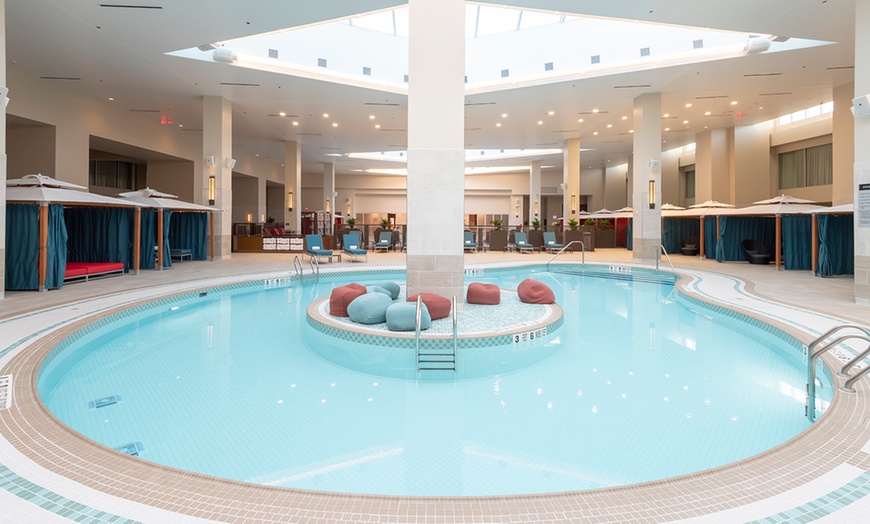 If you are wondering how to organize an unforgettable trip on a high level without putting too much effort, the best solution for you is to rent a charter bus. Planning a casino trip might be difficult, especially if you intend to travel with a large group of people.
With reliable Comfort Express bus rental service you will get not only convenient way to reach World Catskills Casino with ease and fun, but also enjoy a smooth ride.
There is no need to stick to the public transport's schedule as you can plan itinerary in compliance with your needs. Whether you crave agile gaming action or looking for luxurious vacation at the state-of-the-art hotel, have a delightful charter bus casino trip and make your dream come true.
Visiting World Catskills Casino is your chance to experience heavenly relaxation and impeccable entertainments that will blow your mind. It is a marvelous destination where all the tourists will certainly find what they need.