Charter Bus Rental to Rhode Island
---
If you need a quality transportation solution to Rhode Island, our superb charter bus rental service is ready to provide you with a quality bus shuttle wherever it is necessary and ensure a smooth ride within the whole trip from New York.
Comfort Express Inc is reliable bus rental company that has considerable experience in organizing various types of occasions for small and large groups of people. Whether it is a corporate trip, wedding celebration, or sports event, you will get an efficient option to travel without stress and worries. Let our specialist handle tedious travel arrangements, while you relish every second of your long-awaited vacation.
Exceptional Charter Bus Group Trips to Rhode Island
Although the Ocean State is quite small, with its heritage trails, large bays, and mesmerizing inlets it offers lots of beautiful places and multiple tourist attractions for people of different ages. Having a charter bus group trip to Rhode Island allows you to have a journey of your lifetime. If you want to get rid of stress and forget about hateful preparations related to the planning of your upcoming trip, hire a bus charter for your group and concentrate on your emotions while our professionals will organize everything for you.
Travel with Ease and Comfort
Choosing the right option to travel is highly essential if you want your trip to be perfect and full of positive emotion. However, picking a reliable and secure ground transportation company is not less important. With Comfort Express Inc you can be sure that nothing will spoil your weekend and you will be delivered to the designated location safely. With unlimited access to top-notch bus shuttles, we ensure the best possible transportation solution for your group.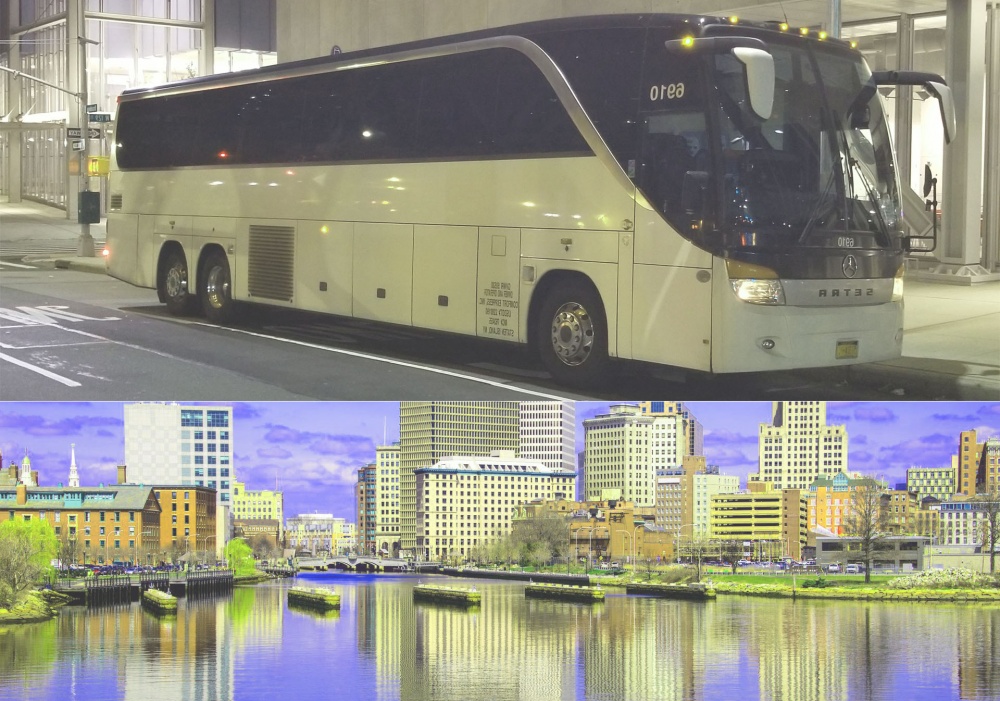 Our vehicles are fitted with versatile contemporary amenities, such as air conditioning, cushioned seats, Wi-Fi, power outlets, panoramic windows, luggage bays, and restrooms, so that you can feel comfortable and happy while having a ride.
Charter Bus Trips from New York is Your Way to Forget about Stress
There is nothing more fascinating than setting off for an exciting trip with your close friends or family and leaving behind all the burdens of a busy routine. We offer an efficient and safe way to travel to Rhode Island without stress and hassle.
Our professional drivers have considerable experience in dealing with versatile driving issues such as traffic congestion and intricate routes, so you can fully rely on them.
You just need to choose the most suitable time for your trip, and we will provide you with a quality full-sized bus charter or motor coach to take you to any occasion. All our transport is thoroughly inspected and serviced prior to get you on board and our drivers possess flawless driving records, so you can be at ease in your mind about your future trip.
Bus Trips to Any Occasions to Road Island
Whether you want to have a peaceful family outing and visit the Roger Williams Park Zoo to enjoy its extended collection of fascinating exotic animals, or you are organizing a school field trip to the Providence Children's Museum, where you will have hours of discovery combined with thrill and excitement - we will help you to plan your personal itinerary and will match you with the most suitable bus shuttle. We put lots of effort to satisfy all the desires of our passengers and to make their travel experience full of fun.
Be sure, that our driver will appear at the needed location at the designated time to pick your group and shuttle it to legendary Rhode Island. Travel with comfort and spend a weekend full of an unforgettable experience.
Comfortable Charter Buses reviews
Latest News About Charter Buses
---